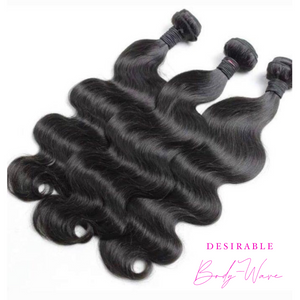 Our Brazilian virgin hair is naturally compatible with many different hair types. Our hair comes in natural color and has not been chemically altered or processed. You would need 2-3 bundles to complete your hairstyle if you are going longer than 24" we recommend 4 -5 bundles.
Take advantage of bundle deal and save!
Textures straight,bodywave ,loosewave ,deepwave

Color: Natural brown shades. Hair can be dyed darker or can be bleach to your desired color.

Straight: Can be flat ironed, curled, washed and blow dried.
Bodywave : Can be flat ironed, curled, washed and blow dried.
Loosewave: Curls beautifully and holds curls for a long period. Recommends washing and hang dry as it's natural curl state is beautiful and can be worn as is.
Deepwave: Perfect vacation hair. Our high quality curly hair when washed and conditions has a beautiful curl pattern. You will need leave in conditioner or a curly hair product of your choice to moisture and restore curls as often as you see fit..